Welcome to the Indigo Room with Sydney Chase
The Indigo Room: Creating Our Reality with me, Sydney Chase, is based on the fact that we are spiritual beings having physical human experiences. And life is supposed to be fun, beautiful & delicious even when it's Wicky Wacky!
What do I mean by Wicky Wacky? It is a phrase I use instead of negative because negative sounds, well too negative!
Is your life full of wicky wacky experiences and emotions? This is the place for you.
You can join us live every Wednesday evening at 8 pm Eastern, New York time and 5 pm Pacific time. I share tips and tools to help let go of negativity, lack, fear, doubt and worry so you can manifest the life you desire.
Visit our Shop for new Indigo Room Stuffs.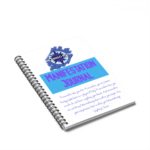 Each Tuesday I share a new I AM Statement to focus on. You will find them posted on Instagram, Facebook, Twitter, Tumblr and in our I AM Statement Group. Click one of the I AM Statement photos above to join our I AM Statements group on Facebook to share your statement or to find a new one.
I am also the author of Mind Garden of Eden, currently an E-book on Amazon. Soon you will be able to purchase it in paperback as well. Click the flower photo above to find out more.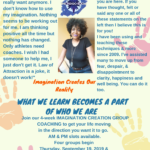 IMAGINATION CREATION GROUP COACHING
"I don't know what I really want anymore. I don't know how to use my imagination. Nothing seems to be working out for me. I am thinking positive all the time but nothing has changed. Only athletes need coaches. I wish I had someone to help me, I just don't get it. Law of Attraction is a joke, it doesn't work!"  Have you said any or all of these statements? Check out Imagination Creation Coaching Group here to book your session today! 
Live Indigo Room Episode Below aired Tuesday, October 22, 2019, at 7 PM Eastern,
INDIGO ROOM CONVERSATIONS SPECIAL GUEST BLAHSHEENIA69 TAROT
Live Indigo Room Episode Below aired Sunday, October 20, 2019, at 11 AM Eastern, I AM so ANGRY | Some People Love Taking Me to a Lower Vibe | Good Rising Open Chat