I AM Statements
If you would like to join our I AM Statements group on Facebook please click the link here and follow the pop-up instructions to join.
 I AM Statements. Created by Linda Patrick for The Indigo Room.
This Week's I AM Statement 9/3/19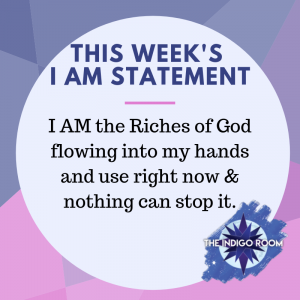 Trust that God/Source is your Supply!
This weeks I AM Statement. Use it as often as you can. Allow it to become a part of your mind, body and spirit. Trust that Source is your supply! 💙
Two seemingly small words, "I AM", have so much power. They have creative and formative power, always. It is the name of the creator within, "I AM that I AM". Everything you want to experience, be, have and do begins with 2 words, I AM.