AAPT Assume it's Real, Act as If, Praise & Thanksgiving: COACHING
"You cannot keep doing the same thing over and over and expect a different result."
What is AAPT Coaching Sydney??
AAPT is a monthly coaching subscription program to assist YOU to help change and transform negative thought patterns & emotions which are running your life unconsciously, in the background. .
Many of us follow all the "rules" we've been condition with since we were wee ones. And some of this programming, was handed down to us from our parents, teachers, clergy, friends, family and society at large. Have you thought any of these negative thoughts about yourself or your life?
"Money doesn't grow on trees." "You must go to college to succeed in life."
"You will never amount to anything." "You are not worthy of ____________ fill in the blank."
"I'll never be able to ____________ fill in the blank." "You are not enough."
"You can't. I can't." "It is a bad idea it will never work."
"You can't have. I don't have." You get the idea. "You always be ______________ fill in the blank."
I have thought these thoughts and felt many times defeated about myself and my life too! It wasn't until I literally died and came back that I realized something had to change. It wasn't easy to make those changes to my thought process because I didn't have a clue how to do it successfully.
Hear from former AAPT Coaching Group Members had to say about their experiences! TESTIMONIALS.
To Prepare yourself to work with me check out  Free AAPT Series on YouTube Here.
AAPT  Coaching Online with Volley, via your mobile device or laptop is like having a coach at your fingertips or in your back pocket with you side by side everyday during your subscription.
No More fumbling with your phone to find your coaches phone number, I am on speed dial literally! You don't even need my phone number!
No more emailing back and forth trying to find the right words to type. Send me a Video or Voice Volley. I got your back!
Face to face interactions with me from your car, from the grocery store, from anywhere. I AM available wherever you are!
Can't attend our scheduled zoom that's okay we can Volley!
Never miss a coaching session again.
Not in my time zone, no problem Volley me!
Need someone to hold your hand? Okay I can't do that but pull out your phone and voila you can see my smiling face or voice cheering you on YOU CAN DO IT! Just Volley me!
Okay I think you got it! Volley Volley Volley Me!
What do I get with this Package Sydney?
Your subscription includes everything below
All packages includes weekly Private 0ne on one coaching sessions with me.
Daily Access and connection to me through Volley.
Access to The Indigo Room Community Spaces on Volley.
1 Personalized Affirmation & I AM Statements Subconscious Meditation Recording per month.

Get clarity on what it is you do want to be, do and have.

Learn how to use your imagination to feel what you want to be, do and have as real. (Feel it real. Feeling is the Secret)

Learn to remove and dissolve limiting blocks and triggers for good.

Learn how to match your feelings with your thoughts.

Learn how to change your subconscious programming and why it's key to do so. 

Learn long lasting meditation habits
Learn to Create/Imagine Your Day to get more done and have more fun. (Create My Day Journal & Planner included)
Exclusive Access to our Imagination Creation Master Mind Group
PDF's and slides for your future use
Coupon code for a discount on your first one on one VIP coaching package

Daily support and check-ups during your four subscription time.

Continued Access and Interaction with The Indigo Room Community Space on Volley after your program completes.
Hear from former AAPT Coaching Group Members had to say about their experiences! TESTIMONIALS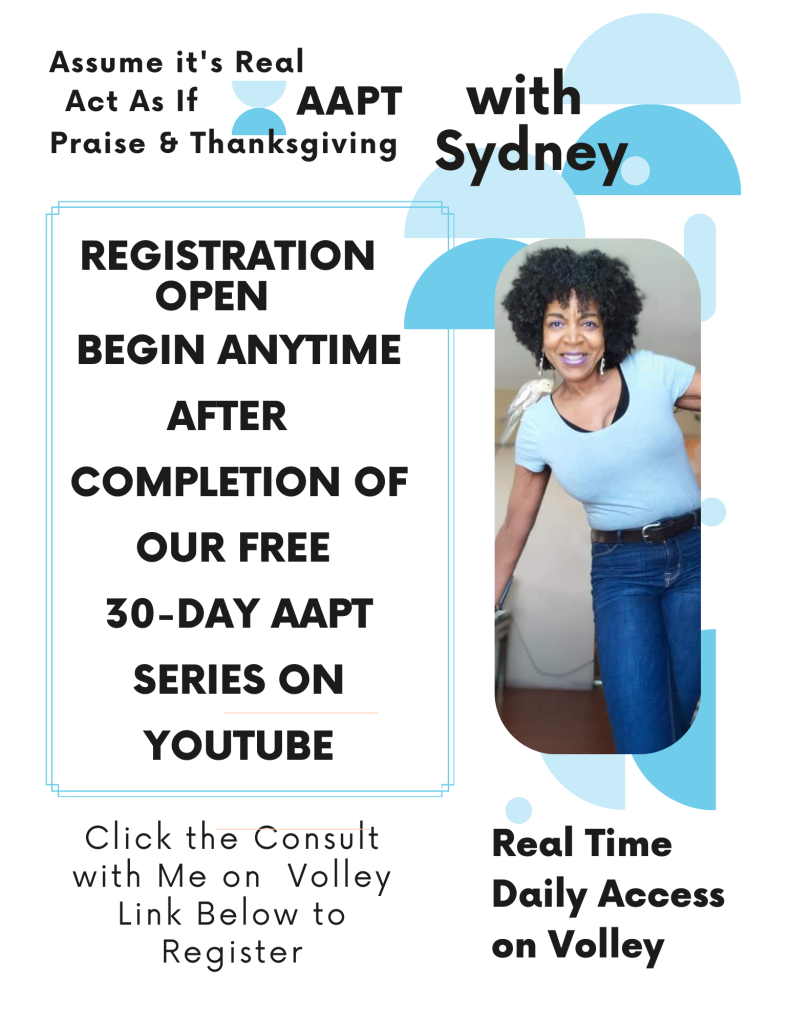 Click the Consult with Me on Volley Link Below for this offer and to view other offers.
To Prepare yourself to work with me check out  Free AAPT Series on YouTube Here.
ATTENTION!!! Payment Arrangements are available.
You can connect with me directly on Volley! What is Volley? A messaging app with a flair for video! The Volley App is Free!! To Find out more click the link below:
Volley Me! or Email me at theindigoroom2@gmail.com to discuss what will work for you.
Click the link below to download the app and send me a Volley Today! The Volley App is Free!!
"I am now a Volley Partner and I will receive a commission when you sign up"
In order to have something different, you need to be & do something different.
I so am looking forward to talking to you and working with you!