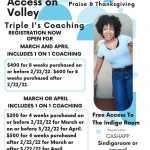 We started the 30 Day AAPT Assume it is Real, Act as if it's already Done, Praise & Thanksgiving series in January on YouTube.
If you haven't checked it out yet you can do so here.
Hear what some of our Group Members and One on One clients have to say about their  experience since they began their journey with us, below.