The Invisible Gardener, Andy Lopez of Don't Panic It's Organic

Andy Lopez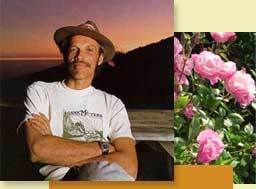 www.invisiblegardener.com
Do You have a Garden? Got some questions about growing your garden organically? Join us as we chat with Andy Lopez The Invisible Gardener.
Andy goes to work with vinegar, a bag of flour, garlic cloves, peppermint soap, and a bottle of Tabasco sauce. He may sound like a Cajun chef, but he's actually one of the worlds most respected organic gardeners. He uses these items as pesticides. As time passes, more and more so-called safe chemicals are outlawed, he says, after society has been used as a guinea pig. That's why Lopez promotes organic alternatives through books, tapes, lectures, and radio shows, and now through his web site. www.invisiblegardener.com Andrew has served over 200 clients and many are in the entertainment industry such as Martin Sheen, William Shatner, Eddie Albert. Max Call and Olivia Newton-John, to name a few of his past clients. He is also seen on PBS show New Garden with two current shows called Andy's Ant Secrets and Organic Tree Care.
Second Hour
We continue our Expanding our thoughts. Stay with us for , Second Life, Fridays Rampage of Appreciation, What are you looking at, Our Book of the Month is Ask & It is Given by Esther and Jerry Hicks. www.abraham-hicks.com Have fun with us as we play 17 seconds, and tickling amygdala. Hear some Good News, Birthday Shoutouts, our website & myspace pick of the Day and more. www.theindigoroom.ning.com See ya there!
The Music on tonights show 10/19/07

Sounds of Spirit

"Close to Silence" (mp3)
from "Vito Balance"
(TOOST Music)
Buy at iTunes Music Store

Buy at Rhapsody

More On This Album