September 28, 2007
RELATIONSHIPS EXPOSED   Episode-28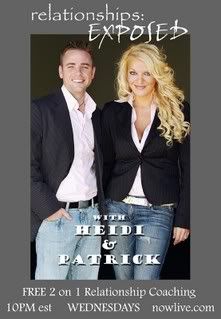 Heidi Bilonick on MYSPACE or visit her website at www.youandimproved.org

Patrick West on MYSPACE or visit his website at www.life2dreams.com

Relationships Exposed an Online Radio
Show Hosted by two Premier Relationship Coaches. Heidi Bilonick and Patrick West are joining us tonight to share their wisdom.
We are going to chat with them about using Law of Attraction in your quest for a mate from the male perspective and the female perspective, both spectrums. This is the radio show that tells it like it is, in relationships, … including tips and secrets to fulfilling the relationship you want.
The Music on tonights show 9/28/07

Omar Akram

"Run Away With Me" (mp3)
from "Secret Journey"
(REAL MUSIC)

More On This Album